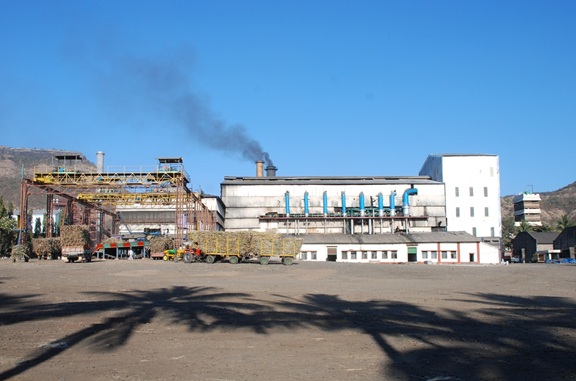 Introduction
The Sugar Plant has a capacity to crush 2500 T cane per day. Its Salient feature include optimum use of auto Feed Control of automation in the plant helps in achieving better efficiency. The state-of-the-art Sugar Silo System which facilitates efficient of sugar, is augmented with auto weighing and auto stitching of sugar bags.
Plant Details :

Initial Capacity 1250 TCD Capacity 1984-85
Supplied by M/s Buckau Wolf India Ltd., Pune.
First Expansion from 1250 to 2500 TCD 1991-92
Supplied by Texmaco
* FSSC 22000 Certified Sugar Factory.
1. Syrup Clarification System –


During the Season 2014-15 the Syrup Clarification System was commissioned and erected by Diftech India Ltd., New Delhi. Because of this system, we have achieved colour reduction of syrup, enhance transmittancy of syrup, turbidity of syrup, turbidity removal and CaO removal, ultimately the physical appearance of sugar also improved.
2. Vapcon Unit for Sulphur Burner –


Previously 100 lbs live stream was used to prepare the melt of sulphur. After installation of Vapcon unit for Sulphur Burners the sulphur is melted from waste heat from the temperature of so2 gas before its cooling. Due to this 100 lbs, steam is completely stopped and this result in reduction of Steam consumption.